Sunday, December 17, 2000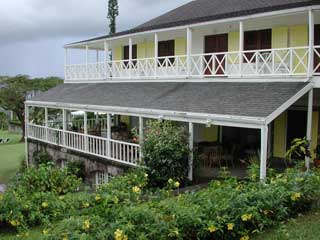 Sunday was for resting.
Kathy awoke at her usual time - about 4:30 am PST (8:30 here). I awoke an hour later. The view from the room is pretty impressive. The room itself is somewhat small, but it has privacy of a sort, and beautiful plants everywhere.
After cleaning up, it was already too late for the 8 to 10 am breakfast, but we didn't have to wait too long for the 11 am brunch. I had some sort of chicken and banana thing, Kathy had French toast stuffed with pineapple. There was also a fruit and bread plate that preceded the meal.
I fed a couple of the finch-sized birds. Another dozen or so people showed up for brunch while we were there.
After that, since nearly everything is closed on Sunday, Kathy and I came back and took another nap. It was surprising how tired we still were. It only lasted about three and a half hours, though.
Then we were off on -- you guessed it -- a hike. This was a short hike, only a mile or two, through a local section of the rain forest.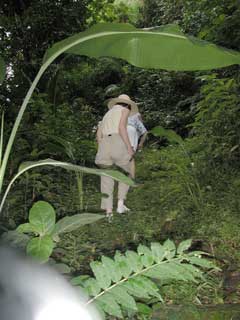 One of the dogs here, a Golden Retriever named Chas, saw us and hurried down to act as trip leader. He was pretty good at it. He would go ahead to the next turn and wait for us to catch up, then hurry on again.
A short way down the trail, after we crossed a picturesque stone bridge, we caught up with some other guests who were also hiking the trail. Marty, one of the members of the family that owns the plantation, was leading. He pointed out lots of ruins from the original sugar cane plantation, and told us a lot about the local flora and some of the fauna. Marty had quite a few good puns and jokes in his presentation. Things like, "80 percent of the people who make it this far make it back to the Inn."
Every five or ten minutes it rained for a short time. One time, near the end of the trail, it really came down for about five minutes. I had packed two umbrellas, which we lent to anyone needing one. Most had brought some sort of rain protection anyway. I had my hiking hat, which was mostly sufficient. The forest canopy did a pretty good job of keeping most rain off from us by itself, except for that deluge at the end.
Surprisingly, even with all the rain yesterday and today, none of the streams were running. All that vegetation must do one heck of a job in soaking up all the rain.
We walked the grounds a little more, and then came back to the room, where I'm writing this now. In a few minutes, I'll shower for supper. Here, the dress code is casual during the day, but you don't wear bathing suits, halter tops, or short-shorts in town or in the shops. For dinner, something smarter is required.
There isn't a television in the room, so we'll probably mingle after dinner, and then come back and read before going to sleep. At the moment, I'm thinking that we'll go into Basseterre tomorrow and look around. We still want to do the hike up the volcano sometime. There is also an easier hike available on this island. And we plan on visiting Nevis as well, sometime.