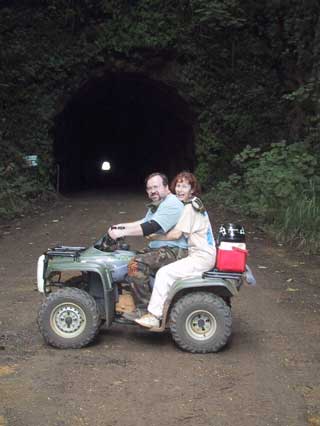 Friday was our final day.

Guess what we did. Here's a hint (left).

One of the couples we met at Smith's Tropical Paradise (ptuie) suggested we try an ATV ride, and since it was something we had never done, we did.

We signed up for a four hour ride (as opposed to, say, a "three hour tour"), which included two stops at waterfalls. The literature for the ride emphasized that you should bring clothes and shoes that you don't mind losing. And their warnings turned out to be all too accurate (more below).

The day started out with a false alarm. Kathy gave Kauai ATV in Koloa a call, to confirm our reservations, and got a message that the phone was disconnected. She redialed, and even called information, with no better success.

So we decided to just go down and see what was going on.

We arrived about a half hour early, and drove around the area to pass the time. Finally, we drove to the check in location. And they were open and doing business. We never did find out what the problem was. They had been booking tours all morning without problem, not even those that came in said anything about telephone problems.

When everyone who had signed up for the tour arrived, we were given a short talk. Again, they said that any clothing or shoes we wear will be ruined. They would provide clothing and tennies or rubber boots, if we wanted (no extra charge, unlike Smith's Tropical Paradise [ptuie]). We shouldn't bring any expensive cameras. We could buy a disposable (wait a minute...), but they would be taking pictures with a digital camera so we didn't have to take pictures (all right). Then we followed the company van out a couple of miles to a decommissioned sugar mill where the ATVs were kept and the adventure would start. There our guide Eric got us kitted out in riding clothes and shoes. About half of the people wore swim suits under their riding clothes so that they could take a dip at the waterfalls. Mike decided to wear his own hiking boots (big mistake).

We were shown to our ATVs, one per person. Eric gave us a short lecture on safety and how to drive an ATV. They were five speed, semiautomatic. Shifting was via a foot pedal, similar to a motorcycle. You could just leave the vehicle in third gear and have enough dynamic range that you could just drive it like an automatic, but lack of the ability to shift to first would hurt you later. Everyone was skilled enough to use the full range of gears.

Then we got our helmets and headed out to the practice course to make sure everyone knew what to do. Naturally Kathy's machine would not shift into first gear or second or third. She was quickly given another to ride and started what turned out to be a pattern for the day, trying to catch up to everyone else.

Once around the practice loop, then we were on our way. We began somewhat slowly and built up speed as we got used to the vehicles. Our first stop was at a tunnel under one of the mountain ridges. It was build just after World War II to aid in sugar production, which apparently has always been barely profitable. The tunnel is a half mile long and is just behind us in the first picture. As you drive through, the pitch black surrounding you and the bright light at the end kind of affects your vision.

The third picture was taken just after exiting the tunnel. This valley was the used in several movies. For instance, the mountain in the background was used in Captain Hook. The field was used in Six Days and Seven Nights. Raptors chashed everyone in the first Jurassic Park move. More movies that I can remember we rattled off. We also heard that the second largest land owner in Kauai'i is Steven Case of AOL.
Then the real fun began. Even during the drought, and even though we're on the dry side of the island, there is enough rain along the ridge lines so that the mountains constantly produce artesian water flows, which oozed out along the trail we took. So, every few yards was anything from a series of water filled potholes to a fairly large sinkhole. With our motorcycle helmets and goggles on, we didn't hesitate to see who could soak themselves most thoroughly.

Half way through the adventure, we stopped at the first water fall -- a double fall. We had lunch and most people climbed up a path next to the falls and jumped into the twelve foot deep pool. Then we were off again.

One guy seemed to have constant problems. It seemed like he wanted to always take the biggest pools, but not ride fast enough and consistently enough, so at the other end his ATV would stall. Mine worked like a champ. They only problems I had were going around some of the sharp turns on wet roads. Kathy's only problem was that she was behind everyone, and so was getting everyone's dust. So, she hung back and had to continually play catch up. Which meant that she didn't get to see all the signals our leader was giving out. During one stretch, while trying to catch us on a flat stretch, her ATV began to wander off road, following ruts. That last I saw her, she was not too far behind, just before I went around a corner. When the rest of us stopped to regroup, just around the corner, the leader was driving back down the trail, and Kathy was not in sight.

Apparently I missed a good scene. I understand that Kathy went off the road, into the cane fields, which meant she had no visibility, and she was dodging trees and trying to prevent the ATV from turning over. She got the ATV to stop and walked back out to the road and the leader (Eric) and sweep (Nelson) had to go and pull her ATV back onto the road.

(Kathy here: Actually what happened was that as I rounded a corner, my ATV got caught in a big rut and I lost control. It started to go off the trail and I couldn't correct fast enough. So I did what Eric told us to do in an emergency, I let go of the throttle. Usually that would have stopped the ATV quickly but I had been really moving to catch up. I went off the trail straight into some volunteer sugar cane and came to an abrupt halt. Mind you, this all happened in the space of about ten seconds. I thought when I hit the cane the ATV was going to tip over so I hopped off real quick. I did have the presence of mind though to turn off the ignition. Nelson came along about a half minjute later and after making sure I was uninjured, tried to pull the ATV out of the brush. It was only about five or six feet off the trail. Eric showed up shortly after to lend a hand. The rest of the ride back was pretty uneventful. It was only on the drive back to the condo that I noticed I had a couple of skinned spots on my left thumb from the accident.)

For the last couple of miles, I mostly drove standing up. I was totally soaked, head to foot, dripping with the red mud that is everywhere here. I had a cloth over my mouth, but that just held the mud against my mouth. I had to keep wiping my goggles clean. I was trying to dry my pants before we got back. But, it did no good.

When we got back, I stipped off the T-shirt and camoflauged pants they gave me, and decided that my socks and underwear were unrecoverable, so I hosed out my hiking boots and stripped off everything, put on my original dry clothes, and drove "commando" from then on. Back at the office starting point, I bought a CD with pictures of today's trip (as shown above). Then we had to rush back to the condo and shower so we could make it to the second night of the hula competition.

The moden hula competition was in some ways even more exciting than the first night.The performances were shorter, and some were even more energetic. There were a couple that were done by older women (elders). But this was modern hula and, even though it was very entertaining, both Kathy and I felt that the previous night's performances were more powerful.

This is probably the end of the BLOG for the trip. Tomorrow at midday we'll take the flight back to SFO.

All in all, a very pleasant trip. The hike, the helicopter trip, the gardens, the ATV trip, stopping at shops, the restaraunts, and the friendly people all made this a pleasantly memorable break. It's on our list to do again.